"WHAT DO YOU WANT JUNIOR?!!!!!!!!!!!!"
-Chef Pee Pee to Bowser Jr.
"WHAT BOWSER?!!!!!"
-Chef Pee Pee to Bowser
Chef Pee Pee
is a foul-mouthed and bad-tempered chef and is a main character in the
SuperMarioLogan
series who serves as a protagonist and works for Bowser as an enslaved chef and takes care of Bowser Junior. He has recently appeared in numerous
SML Movies
. He cooks mostly for Bowser and Bowser Junior, due to them forcing him (with an occasional exception for Mario, Shrek, and Black Yoshi). With his harsh, violent, and profane attitude, he has conflicts with a lot of characters (including innocent animals who are cooked). In early episodes, he spoke very few words, and seemed to enjoy cooking and working for Bowser, but overtime he gradually got very annoyed with Bowser and Junior and eventually grew a serious hate for them and starred whining and complaining 24/7. Chef Pee Pee is also in a 20 year slave note from Bowser.
When Chef Pee Pee was a child, he lived in New Jersey. He played with sticks, rocks and poop. This was revealed in Bowser Junior Loses Thomas!
Personality
Edit
In early episodes, Chef Pee Pee was jolly, incompetent, and enjoyed working for Bowser and he sounded more Italian, but when Bowser Jr was reintroduced, he became a lot smarter and his accent sounded more American. He also started whining and complaining 24/7 and to some became kinda annoying.
Relationships
Edit
They really despise/hate each other. Chef Pee Pee wants to kill him and Bowser Junior Bowser also hates him by trying to make him do more work than he really has too by creating a mess on purpose. But in the more recent videos, Bowser and Chef Pee Pee seemed to be getting along a little better than they were in their earlier appearances.
Bowser Junior Edit
Chef Pee Pee despises Bowser Junior, but he is forced to take him and his friends to places against his will and is always getting annoyed with them. Chef Pee Pee also hates Junior because he's a spoiled troublemaking brat who whines when he doesn't get his way and is always trying to get even.
Officer Goodman Edit
Chef Pee Pee gets frustrated with Goodman a lot, because he hates his former job with him and how Chef Pee Pee got arrested several times. Though Goodman doesn't like Chef Pee Pee, he doesn't "hate" him. He thinks Chef Pee Pee is immature though for tasing Bowser.
Chef Pee Pee technically thinks Cody is weird and gay. Especially since Cody makes out with his Ken doll and likes watching Barbie Drama. But Chef Pee Pee "tolerates" him a little bit more than others.
The two of them get along very well with each other. Chef Pee Pee likes the way Mario asks him for food politely and that he's the only one who doesn't go at him aggressively like Bowser and his son.
Appearances
Edit
Main article: Chef Pee Pee's Video Appearances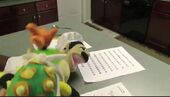 My Name is Chef Pee Pee, Not Chef Pee Hole!
DAMN IT JUNIOR!!!!
I HATE JUNIOR I HATE HIM!!!!!!!
WHAT DO YOU WANT JUNIOR???????!!!!!!!!!!
WHAT BOWSER?!!!!!!!!!!!"
My god, you're so damn weird Cody!
I swear cleaning never ends!
JUNIOR WHAT THE HELL IS THIS?????????!!!!!!!!!!!!!!
Your not getting a million toys your only getting one, don't pick up 2 or 7!
Alright since your friends are looking for their toys, you choose your one toy that you want what now what is it?
But you already have a Thomas choose something different.
GRRRRRRRRRRRR!!!!!!!
NOOOOOOOOOOO!!!!!!!
AHHHHHHHHHHHHHHHHHHHHHHH!!!!!!! I'LL TAKE YOU!!!!!
SPOILED LITTLE BRAT!!!!!
HE GETS 2 BECAUSE HE IS A SPOILED CRYBABY!
HOHOHOHOHOHO do you know what you just did? You broke you dad's favorite cup.
Happy birthday to the bastard, Happy birthday to the bastard, Happy birthday to the bastard. Eat your f**king cake!
No I'm not taking you to get a happy meal!
Please kill me!
OOOOHHHHH JUINIOR!
I GOT YA JUNIOR HAHAHAHA HAAAAAAAAAA!!! HAAAAA! HAAA!!!
Junior what the hell happened to my latte?
I WILL STRANGLE YOU!!!
GET OUT OF HERE YOU LITTLE STUPID REDHEAD GINGER F*CK!!!!
JUINIOR STOP P***ING IN THE LEMONADE (Bowser juniors lemonade stand)
Ah, save the best for last! Junior, you get the honorary "F**k You!" You get the biggest "F**k You* of all! I f**king hate you! You're nothing but a big crybaby BASTARD, who fails Calculus because you're nothing but a stupid idiot who goes ding-dong ditch with this idiot! I swear to God, I swear to God you're stupid, and I have to fix food for you every second! Nobody likes fixing food for you, nobody loves to play dinosaurs, nobody loves to play trains with you - that's all kiddie games! Nobody likes to play games with you 'cause you're a stupid f*cking bastard! BASTARD!!!!! Ahem, excuse me.
GRRR....!) BOWSER I'M SICK AND TIRED OF THIS!! You're not gonna beat me like I'm you're five year old son anymore! I'm not just gonna...sit here and let you do this! You know what? I....QUIT!!!! *HUGH!* I HATE YOU BOWSER!!!
DAMMIT JUNIOR WHAT WAS THAT FOR!?! UGH I'MA STRANGLE YOU!
IS THAT A DAMN SHARK?!
Do you like Chef Pee Pee?
His father is a King
Starting with "The Fly", Chef Pee Pee's clothes now has the words "Chef Pee Pee" on the left, near his arm, however, in the episode "Chef Pee Pee's Birthday" he is seen given the clothes by Jackie Chu, this might mean that Chef Pee Pee's birthday might have been made before The Fly.
He was Bowser Jr.'s show and tell at summer school.
He is similar to Total Drama Island Chef Hatchet
Most SuperMarioLogan fans aren't fond of Chef Pee Pee because in recent years, he has been getting a TON of episodes and fans want to see more variety.
In early episodes (most notably in his 1st appearance), his accent was more Italian, he loved working for Bowser, and he was stupid and retarded but in his newer appearances, his accent is more understandable and he is smarter.
Despite hating cooking for Bowser, he once saved him when he found him hanging from a rope (the reason for him doing this was because Charleyyy and Friends was cancelled) in the bathroom.
Although Toad used to be the unlucky person of SML, Chef Pee Pee now is shown to have the worst life.
Chef Pee Pee has had a fear of ferris wheels since he was three years old, as revealed in "Bowser Junior Goes To The Fair", but he doesn't like to talk about it, saying it is really "tragic."
He owns a Magikarp, Snorlax, Psyduck, and Weedle.
He's a gym leader in the Pokemon series.
Every time he appears, Italian music plays.
After realizing how much hate Pee Pee was getting, Lovell (Chef Pee Pee's voice actor) tells the fans, in a behind the scenes video, "don't diss my nigga."
Chef PeePee swears a lot and out of all the SML characters, he is the only one who swears constantly.
It is revealed in Bowser Junior Loses Thomas that he grew up in New Jersey
Despite hating Toad, Chef PeePee has been showed to enjoy his music. He listened to one of his songs in Bowser Junior's Summer School 5, and Chef PeePee's Mistake !.