Chef PeePee
Talk

8
719pages on
this wiki
Chef PeePee

'

Friends

Enemies

Chris the Cucumber, The Rat, Bowser, Bowser Junior, Tyress, Chef PooPoo, Joseph, Mine! Bird, Cody, Toad, Brooklyn Guy, Judy, Tyrone Calvin

First Appearance

Latest Appearance:

Portrayed and Voiced by:

Family:

King Strongbottom, Stacy, unnamed sister, Carlos

Occupation

Chef

Nationality

American-Italian

DOB

June 1st 1990

Age

24
WHAT DO YOU WANT JUNIOR?!!!!!!!!!!!!
Chef Pee Pee to Bowser Jr
Chef Pee Pee is Bowser's chef who serves as a protagonist and works as a slave and cooks, cleans, and takes care of Bowser junior.
Appearances
Edit
His father is a King
Starting with "The Fly", Chef Pee Pee's clothes now has the words "Chef PeePee" on the left, near his arm, however, in the episode "Chef PeePee's Birthday" he is seen given the clothes by Jackie Chu, this might mean that Chef Pee Pee's birthday might have been made before The Fly.
He Was Bowser Jr.'s show and tell at summer school.
Most Super Mario Logan fans aren't fond of Chef Pee Pee because in recent years, he has been getting a TON of episodes and fans want to see more variety.
In His Early Appearances, his accent was more Italian and he was retarded but in his newer appearances, his accent is more understandable and he is smarter.
Despite hating cooking for Bowser, he once saved him when he found him hanging from a rope (the reason for him doing this was because Charleyyy and Friends was cancelled) in the bathroom.
Although Toad used to be the unlucky person of SML, Chef Pee Pee now is shown to have the worst life
Chef Pee Pee has had a fear of ferris wheels since he was three years old, as revealed in "Bowser Junior Goes To The Fair", but he doesn't like to talk about it, saying it is really "tragic." 
He owns a dead Magikarp, Snorlax, Psyduck
He's a gym leader in SuperMarioLogan's Pokemon series
Every time he appears, Italian music plays.
Puppet Info and quotes
Edit
My Name is Penis, Not Chef PeePee!
DAMN IT JUNIOR!!!!
WHAT DO YOU WANT JUNIOR???????!!!!!!!!!!!
I swear cleaning never ends!
Your not getting a million toys your only getting one, don't pick up 2 or 7!
Alright since your friends are looking for their toys, you choose your one toy that you want what now what is it?
But you already have a Thomas choose something different.
No you can't have all of them your dad only gave me enough for one
How about one?
You can't get all of them!!!!!!
GRRRRRRRRRRRR!!!!!!!
AHHHHHHHHHHHHHHHHHHHHHHH!!!!!!! FINE I'LL TAKE YOU!!!!!
SPOILED LITTLE BRAT!!!!!
HE GETS 2 BECAUSE HE IS A SPOILED CRYBABY!
HOHOHOHOHOHO do you know what you just did? You broke you dads favorite cup.
No I'm not going in the tunnels with you that's crazy!
No I'm not taking you to get a happy meal!
We kinda went to McDonalds to get a happy meal and toy came with sissors, don't know why they gave him sissors?
Please kill me.
(whispers) april fools.
I GOT YA JUNIOR HAHAHAHA HAAAAAAAAAA!!! HAAAAA! HAAA!!!
Junior what the hell happened to my latte!?
''i Hate My Life''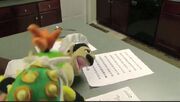 Do you like Chef Pee Pee?