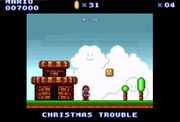 Christmas Trouble is a short flash game developed by Zeke. It even has a story. Due to no talk about it from either side, it is considered to go along with SML canon.
Synopsis:
It's Christmas Eve and Bowser has stolen all the presents from Toad Town!!! Peach has sent Mario to find Bowser and take back the stolen gifts before dawn!
Ad blocker interference detected!
Wikia is a free-to-use site that makes money from advertising. We have a modified experience for viewers using ad blockers

Wikia is not accessible if you've made further modifications. Remove the custom ad blocker rule(s) and the page will load as expected.