"JEFFY, DO NOT SAY THAT WORD!"

Both this article and the character(s) documented in it contain language that may be considered offensive to some users.
"I WANT A LONGER PAGE!"

This article Logan Thirtyacre (character) is a stub. Why don't you help The SuperMarioLogan Wiki by expanding it?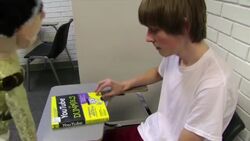 Logan Thirtyacre is a minor character in SuperMarioLogan. He was succeeded by Logan Thirtyacre. He appeared in the Bowser Junior's Summer School series, as a student. He later reappeared, which was his name being called on role (he wore a jacket at this point) and in the last episode, he was seen filming the scenes to Bowser Junior's Summer School as a reference to the real Logan Thirtyacre. He is known as "YouTube Dumb Shit" by Jackie Chu. He was the oldest of the summer school class (Episodes 3-4). He is also a minor antagonist of Evil Chef Pee Pee!.
Ad blocker interference detected!
Wikia is a free-to-use site that makes money from advertising. We have a modified experience for viewers using ad blockers

Wikia is not accessible if you've made further modifications. Remove the custom ad blocker rule(s) and the page will load as expected.