"Gi-da-raffe!"

This page needs to be cleaned up in order to follow SuperMarioLogan Wiki's Manual of Style. You can help the wiki by cleaning up. Please remove this template when finished.
"I WANT A LONGER PAGE!"

This article Mario and Peach Skit 2 is a stub. Why don't you help The SuperMarioLogan Wiki by expanding it?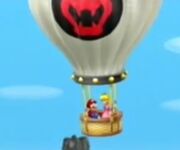 Mario and Peach Skit 2 is a skit that appears in new Super Mario bros Wii final boss preformed by Logan Thirtyacre.
Synopsis
while riding their hot air balloon, Peach asks Mario to tell her his adventure again, but Mario would prefer to have sex with her.
Characters
Ad blocker interference detected!
Wikia is a free-to-use site that makes money from advertising. We have a modified experience for viewers using ad blockers

Wikia is not accessible if you've made further modifications. Remove the custom ad blocker rule(s) and the page will load as expected.