"I WANT A LONGER PAGE!"

This article Meowth is a stub. Why don't you help The SuperMarioLogan Wiki by expanding it?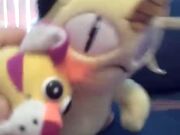 Meowth is a character seen in TONY'S LIFE STORY and Mr. Pig's Life Story. He is a villain in the Pokemon series
Bio
Meowth is the father of Tony. He put him up for adoption because he was stupid.
Later, he finally returns in Pokemon Part 5 with Wario and Waluigi and they try to steal Junior's Pikachu. In this episode he with his friends in team of rocket were blasted into the sun. It is currently unknown why,when or how he joined team rocket but we might find out in the next Pokemon episode.
Ad blocker interference detected!
Wikia is a free-to-use site that makes money from advertising. We have a modified experience for viewers using ad blockers

Wikia is not accessible if you've made further modifications. Remove the custom ad blocker rule(s) and the page will load as expected.