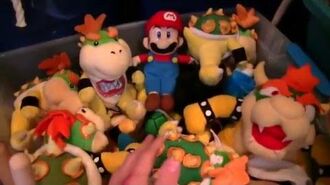 Puppet Closet! is an episode of SuperLuigiLogan.
Plot
In this video, Logan shows the viewers his closet full of plushes and puppets.
Characters
Trivia
This is the first video to be uploaded on SuperLuigiLogan in 2016. Not only that, it also ends the 1 year and 27 day hiatus of no recent SLL videos.
This video has the Chef Luigi Skit.
It's revealed Logan hates Big Hero 6.
A possible early version of Jeffy can be seen in the video.
Ad blocker interference detected!
Wikia is a free-to-use site that makes money from advertising. We have a modified experience for viewers using ad blockers

Wikia is not accessible if you've made further modifications. Remove the custom ad blocker rule(s) and the page will load as expected.