Shrek
Talk

0
182pages on
this wiki
Shrek is a main character of SML. He is played by Lance, and his back-up actor is Len.
Shrek

Shrek's picture from the SML Website

Full Name

Shrek

Color

Green

Relatives

Baby Shrek (Son)

Forms

First Appearence

MAIN CHARACTER JUDGING

Latest Appearance
Shrek won the main character judging and picked Tour Guide for Today  along with Noquiero Tacobell as other characters. His longest appearance is probably Shrek's Nightmare. He also appeared in Season 2 of MLSDA series and Shrek's Big Crap where he got a world record for world's biggest crap.
Aside from appearances, he is friends with Mario, whom he refers to as "Donkey,"  Black Yoshi, whom he refers to as "Black donkey", and Woody who he calls by his proper name. It may be noted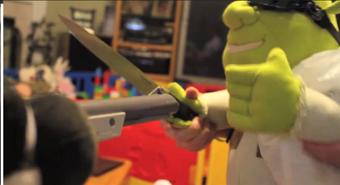 that both Black Yoshi and Woody are also voiced by Lance. He and Black Yoshi could be considered friends. As in 'Dorito's Superbowl XLIV Commercial "RARE", he and Black Yoshi both killed Toad. In "The Bird", he and Black Yoshi killed Skittles, Woody's Froot Loop bird. And in "Toad is cool", he and Black Yoshi teamed up to do a rap battle against Toad and Ray Cheesy.He's also fat.
Shrek is known to be a doctor.
Shrek calls Mario Donkey because "He smells like a donkey."
He calls everyone "Donkey" except for Woody
Shrek is the only character from Main Character Judging that is still in the show.
Shrek is the only known character to only eat and make supposed love to his favourite food, cheesecake.
Shrek believes he and Mario look the same and believes they are family when it is completely obvious they are not as Mario has stated this many times but Shrek just ignores him.
Shrek has been known to clog the toilet on more than one occasion and the resulting fallout ends up with a random character either dying or suffocating. Usually Toad is the victim.
Shrek is known to have a very short temper and this usually occurs when he doesn't get food or when someone disturbs him. This is noticable in the SML short: The Bird when the bird Woody brings home eats Shreks Mc'Donalds and disturbs him when he is making love/ eating his cheesecake in his room.
After eating the super hot African shrimpo pepper, Shrek becomes a super hero known as Iron-Shrek but he refers to himself as Iron-Donkey.
BLACK DONKEY, I'M GUNNA KILL THAT BIRD!
Edit
Junior, it's time that Daddy and you had a little talk. If you fart one more time...ONE MORE TIME, I will beat you WITH YOUR CHEESCAKE!! DON'T FART!!
Edit
I AM IRON DONKEY!!!
Cheesecake!!
DARNIT!! Darnit, Donkey!
Swipe your card, Donkey!
Edit