YOU POOPED IN THE BATHTUB?!?!

This page contains broken file links. You can help SuperMarioLogan Wiki by fixing it.
SuperLuigiLogan


Channel Information
Profile:
SuperLuigiLogan
Other Media:
Website
Google+
Genre:
Sitcom, Comedy, Bloopers, Behind the Scenes, Vlog, Various
First Episode:
SLL Movie: Mario's New Car

October 11, 2009

Last Episode:
Jeffy "Why?" Music Video

March 13, 2017 (Most Recent)

Series:
SuperMarioLogan
Date Joined:
March 1, 2008
Date Shut Down:
N/A
Subscribers:
444,282 (11/05/2017) 7:16 PM EST
Videos:
111
Schedule:
Unknown
Status:
Active
Channel Trailer
Most Viewed Video
250px
SuperLuigiLogan is the secondary account to SuperMarioLogan. This account has SLL Updates, SLL Shorts, and blog videos. The channel was going to have a Luigi Mansion's Series, but it was moved to SuperMarioLogan instead.
The channel was changed to Logan's real name later on due to him clicking on a link that changed his YouTube name to his real name. He changed back to SuperLuigiLogan at the start of 2014. Its latest video was uploaded in September 2017.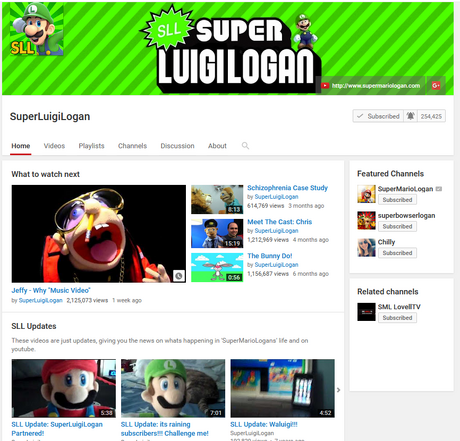 Videos:
Wii? PS3? XBOX 369?
Season 2 with new characters....
SuperMarioLogan "Modern Warfare 2" Tactical Nuke!!!!! Beast mode!!
New HD camera that might be cool, and 3 new videos??
New Website?? New Channel? AHH!!
Colts win Super Bowl 44!!! haha nevermind
Mature Content, im afraid
Modern Warfare 2 "Beast Challenge 1" WIN
My Sister "short video"
its raining subscribers!!! Challenge me!
Watch
Promises
Im Back! And I mean it!
iMac, WebSite, and Other Stuff
Facebook
Episode 5 was short
5 CHANGES
SLL UPDATE
SuperMarioLogan.com "sign up now!" Ft. Techburrow
New Series Coming Soon
Add me on Xbox 360
AirPlane
SMA Syndrome and contests
Hospital
iMac died
SML Short Week and Stuff
It's back!!
Monday
Bored
Angry Birds 16 inch plush
Short
Shirts
SMAS Awareness
SMAS
Back! Videos!
Still editing
Stop Complaining
Stop Bullying PSA
Shrimpo, birds, and 11
Scary Monsters Skrillex Reaction
Capture Card
Chilly and Logan Helicopter ride
Recovering
Back to Filming
My New Car
Should I?
SHORT
Camaro runs over camera HD
The Funniest Joke Ever
Graduated, new iMac, more videos
Draw My Life, Season 3
Video on Sunday!
Videos late because of
ALS Ice Bucket Challenge - Logan Thirtyacre
SML Bloopers and Behind The Scenes!
UPDATE ON VIDEOS
The Bunny Do!
Meet The Cast: Anthony
Meet The Cast: Chris
Super Bowl 51 Trip
Jeffy - Why "Music Video"
Bowser Junior's Doll Blooper
Chef Pee Pee The Savage!
How YouTube Treats A Creator Of 10 Years
Actual Footage Of YouTube Killing A Channel