[Edit]
| | |
| --- | --- |
| Hello and welcome to SML Wiki! We are editing more than 300 pages and we want you to be a part of it. We have lots of articles like Mario, Luigi and Bowser Junior. We have a lot of users too. Become a editor today! Please read the rules here. You can send ban requests here and for requesting Adminship here. We have 1,002 articles, 1,202 files, and 33,592 edits | |
Welcome to the SuperMarioLogan Wiki!
Welcome to the SuperMarioLogan Wiki, an encyclopedia based on the SuperMarioLogan YouTube channel. It was created in 2009.
SuperMarioLogan is a YouTube channel operated by Logan Thirtyacre, and produced by him, his brother Lance, and his good friends Lovell and Chris. The channel primary uploads comedic sketch-comedy videos, featuring plushes or puppets. Some main characters of the series include Mario, Bowser, Bowser Junior, Chef Pee Pee, Black Yoshi, Toad, Shrek, and Woody. It has been online since December 8th, 2007.
(We have 24/7 admins!)
SML Channels
About SML
SuperMarioLogan is the Youtube account where Logan Thirtyacre, founder of the channel makes videos with his friends; Lance Thirtyacre, Lovell Stanton, Chris Netherton, and Chilly Jimenez.
The videos are about Nintendo video game icon, Mario having awesome and hilarious days of wackiness with his best friends; Black Yoshi, Shrek, Woody, Tony The Tiger, Toad, and Mr. Pig. It also features videos starring Mario's nemesis; Bowser, his spoiled son Bowser Junior, and his chef Chef Pee Pee.
Featured Article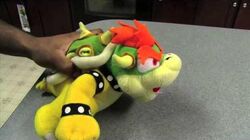 Bowser's Dilemma is the 17th video of SML Movies.
Bowser enters the kitchen only to find a note from Chef Pee Pee that said he was on vacation in Mexico with his family, leaving Bowser useless of getting food without him.
Latest SML Videos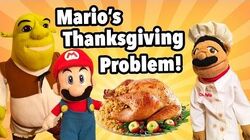 Mario's Thanksgiving Problem! is the 163rd video of SML Movies.
It is Thanksgiving, and Mario has a HUGE dinner planned for his new girlfriend! That is until Shrek messes it up. Can Mario get Thanksgiving back on track in time?
YouTube News
Wiki News
SML Wiki reached 900 pages since October 5, 2015
We have a new admin! His name is Hi1p!
SML Wiki has reached 1,000 pages since November 26, 2015!
Affiliation
Other YouTube Wikis