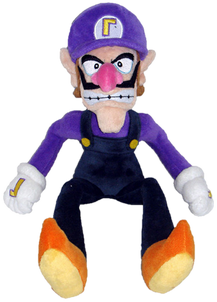 Waluigi is Wario's partner-in-crime. Waluigi first appeared in an update video back in 2010, but he didn't appear in any videos until 2013. When he first appeared in Mario's Wig, he didn't have a voice or a name in that video as he first shown to be an insane man prone to strokes who owns a hair business who only communicates in "WAA" sounds. His first major role was in Wario and Waluigi's Scam! Waluigi is voiced by Logan, although originally he was to be voiced by a fan of Logan's choice after Logan had heard everyone's attempt to make a Waluigi voice impression, which ended up not happening. He also is the role of Team Rocket in the Pokémon series.
Poll
Ad blocker interference detected!
Wikia is a free-to-use site that makes money from advertising. We have a modified experience for viewers using ad blockers

Wikia is not accessible if you've made further modifications. Remove the custom ad blocker rule(s) and the page will load as expected.