"I WANT A LONGER PAGE!"

This article Yoda is a stub. Why don't you help The SuperMarioLogan Wiki by expanding it?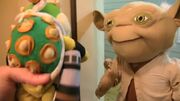 Yoda is a Jedi Master, and a main character of Star Wars. His first and so far only appearance was in Bowser Junior's Lightsaber!. He came to confiscate Bowser Junior, Joseph, and Cody's illegally acquired lightsabers. After a while of Bowser Junior trying to keep it, Yoda loses his temper and stabs Bowser Junior. He realizes what he just did, and flees to Dagobah.